Scalable vehicle library database software
For more dependable results, you need a collection of standard vehicles to design with. By adding standard vehicles specific to your region, you make AutoTURN™ InSite a more personalized design tool.

Maximum results for project work
Add value to AutoTURN InSite for your design needs. Purchase and start using your regional standard vehicle libraries today.

*Note: AutoTURN InSite Standard Libraries include only 1 and 2 part vehicles of the published standard.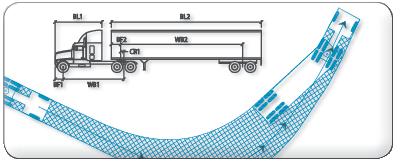 AUSTROADS (AU)
Total Vehicles: 8
ABUS | BUS1 | BUS2
CAR | SEM1 | SEM2
SVEH |TRUCK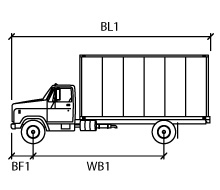 NEW ZEALAND (NZ)
Total Vehicles: 6
11M-TRUCK
8M-TRUCK
90-CAR
CITY-BUS
SEMI-TRAILER
TOUR-COACH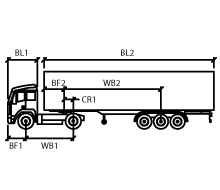 AUSTROADS 2006 (AU)
Total Vehicles: 9
ARTICULATED BUS 19M
BUS | CAR
LONG RIGID BUS
LS ARTICULATED 25M
S ARTICULATED 19M
SERVICE VEHICLE
SU TRUCK | VAN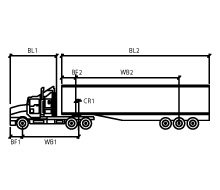 RTS 18 (NZ)
Total Vehicles: 4
LARGE RIGID TRUCK
MEDIUM RIGID TRUCK
SEMI-TRAILER
TOUR COACH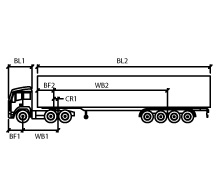 STANDARDS (AU)
Total Vehicles: 2
B85
SRV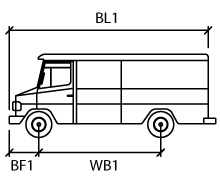 AASHTO 2011 (US)
Total Vehicles: 16
A-BUS | BUS-40
BUS-45 | CITY-BUS
MH-B | MH
P-B | P-T | P | S-BUS-36
S-BUS-40 | SU-30 | SU-40
WB-40 | WB-62 | WB-67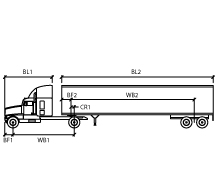 AASHTO 2004 (US)
Total Vehicles: 17
A-BUS | BUS-40
BUS-45 | CITY-BUS
MH-B | MH
P-B | P-T | P | S-BUS-36
S-BUS-40 | SU | WB-40
WB-50 | WB-62 | WB-65
WB-67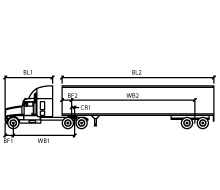 AASHTO 2001 (US)
Total Vehicles: 17
A-BUS | BUS-40
BUS-45 | CITY-BUS
MH-B | MH
P-B | P-T | P | S-BUS-36
S-BUS-40 | SU | WB-40
WB-50 | WB-62 | WB-65
WB-67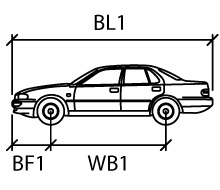 AASHTOM 2011 (US)
Total Vehicles: 16
A-BUSM | BUS-12M
BUS-14M | CITY-BUSM
MH-BM | MHM
P-BM | P-TM | PM
S-BUS-12M | S-BUS-11M
SU-9M | SU-12M
WB-12M | WB-19M
WB-20M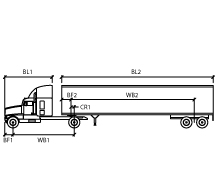 AASHTOM 2004 (US)
Total Vehicles: 17
A-BUSM | BUS-12M
BUS-14M | CITY-BUSM
MH-BM | MHM
P-BM | P-TM | PM
S-BUS-12M | S-BUS-11M
SUM | WB-12M
WB-15M | WB-19M
WB-20LM | WB-20M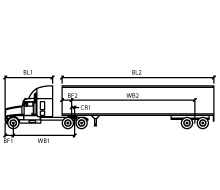 AASHTOM 2001 (US)
Total Vehicles: 17
A-BUSM | BUS-12M
BUS-14M | CITY-BUSM
MH-BM | MHM
P-BM | P-TM | PM
S-BUS-12M | S-BUS-11M
SUM | WB-12M
WB-15M | WB-19M
WB-20LM | WB-20M
CALTRANS 2008 (US)
Total Vehicles: 6
ABUS-60
BUS-40
BUS-45
CA LEGAL-50
STAA-LONG
STAA-STD-50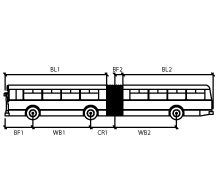 CALTRANS 2005 (US)
Total Vehicles: 7
BUS-40
BUS-45
CA LEGAL-65
MH-40
MH-45
STAA-LONG
STAA-STD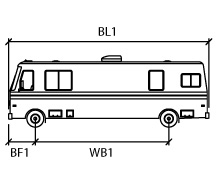 CALTRANSM 2008 (US)
Total Vehicles: 6
ABUS-18.29M
BUS-12.19M
BUS-13.72M
CA LEGAL-15M
STAA-LONGM
STAA-STD-15M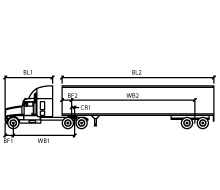 CALTRANSM 2005 (US)
Total Vehicles: 7
BUS-12M
BUS-14M
CA LEGAL-20M
MH-12M
MH-14M
STAA-LONGM
STAA-STDM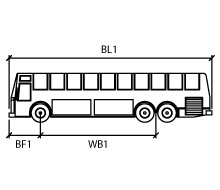 ILDOT 2002 (US) ILINOIS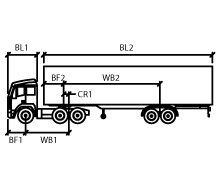 Florida Intersection Design Guide: FDOT 2007 (US)
Total Vehicles: 1
WB-62FL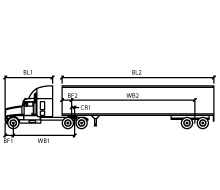 ILDOTM 2002 (US) ILINOIS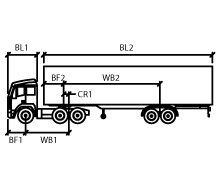 ARCHITECTURAL (US)
Total Vehicles: 10
Articulated Bus
Car-Boat
Standard Bus
Large Car
Motor Home
Car-Camper
Large Scool Bus
Shuttle Van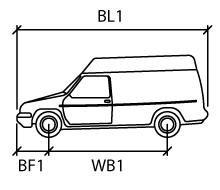 TAC - 1999 (CA)
Total Vehicles: 9
A-Bus | B-12 | HSU
I-BUS | LSU | MSU
P | WB-19 | WB-20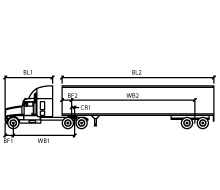 ALBERTA INFTRA-HGDG (CA)
Total Vehicles: 11
A-Bus | BUS | I-BUS
P | Pt | SU9 | WB12
WB-15 | WB-17 | WB-21
5 Axle Deck Trailer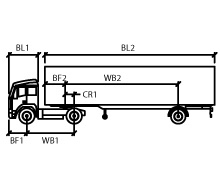 DETR DB32 (UK)
Total Vehicles: 4
FIREAP
PANTEC
PRCVCAR
REFUSE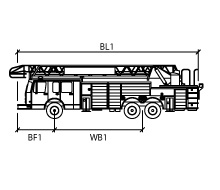 RVS 2005 (AUT)
Total Vehicles: 3
BUS 15M
LKW 9M
LKW-ANH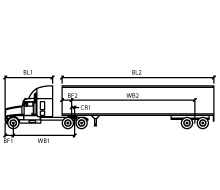 FTA 98 (UK)
Total Vehicles: 4
ARTIC
DRAWBAR
LRIGID
SRIGID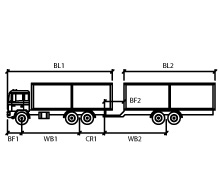 VEGVESEN (NO)
Total Vehicles: 6
BUSS
LASTEBIL
LITEN LASTEBIL
PERSONBIL
SEMITRAILER
VOGNTOG
FTA CUSTOM (UK)
Total Vehicles: 16
A-BUS
BOX VAN 3AXLE
BOX VAN 4AXLE
BOX VAN 5AXLE
BOX VAN 6AXLE
COACH
FIRE APPLIANCE
REFUSE 2AXLE
REFUSE 3AXLE
RIGID VAN 17T
SINGLE BUS
SKIP LOADER
TANKER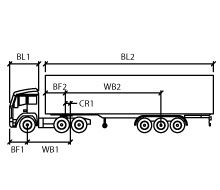 VEGVESEN 2007 (NO)
Total Vehicles: 4
LASTEBIL
PERSONBIL
VOGNTOG
BUSS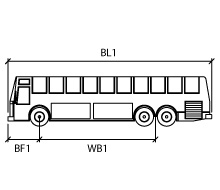 FRANCE (FR)
Total Vehicles: 10
ARTIC-F
BUS-AF
BUS-F
CAMION1
CAMION2
CARAVANE
INCEND-G
INCEND-P
VOITURE-G
VOITURE-P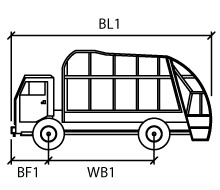 VAGVERKET (SE)
Total Vehicles: 7
BB
BL
LBM
LBN
LM
LPS
P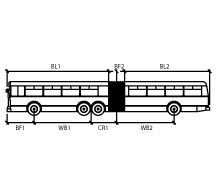 RAS-K-EAE (DE)
Total Vehicles: 9
2MU
3MU
GBUS
LBUS
LFW
LKW
LZ
PKW
SZ
VAGVERKET 2004 (SE)
Total Vehicles: 13
BB | BBSA
BF | BL
LBM | LBN
LMOD | LOS
LPS | LS
LSPEC
P | PH
FGSV 2001 (DE)
Total Vehicles: 12
GROBER-LKW
KLEINER-LKW
LASTZUG
LBUS12
LBUS14
LBUS15
MULFZG2
MULFZG3
MULFZG3N
PKW
SATTELZUG
TRANSPORTER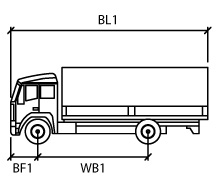 CSN (CZ)
Total Vehicles: 10
AUTOBUS
CITY BUS
K-AUTOBUS
K-CITY BUS
MNA
OA
SNA-2N
SNA-3N
SNA-BP
VNA-SP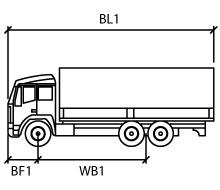 ITALY 2008 (IT)
Total Vehicles: 7
AUTOVETTURA
CAMION SEMI ARTICOLATO
AUTOBUS ARTICOLATO
AUTOBUS STANDARD
CAMION
CARAVAN
AUTOBOTTE ARTICOLATO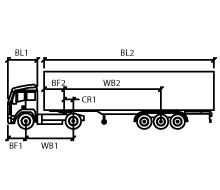 CSN 2005 (CZ)
Total Vehicles: 13
BUS 12
BUS 13.7
BUS 15
K-BUS
KO 2N+1
KO 2N
KO 3N
N1 | N2 | NS
O1 | O2 | PS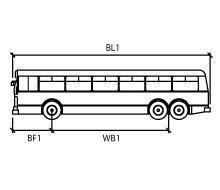 CROW (NL)
Total Vehicles: 6
BRANDWEERAUTO
INTERLINER 15M
LAGEVLOERBUS
PERSONENAUTO
SWB-MERCEDES
VUILNISWAGEN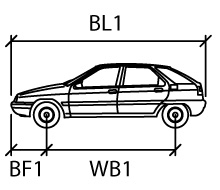 DANSK (DK)
Total Vehicles: 6
BUS-D
DB
LV
PV
PVT
SKT
SVT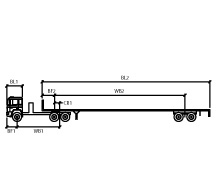 CROW (NL)
Total Vehicles: 10
B-AUTO | B-BUS
GBUS-AG300
GBUS-B93
L-WAGEN
P-AUTO
SBUS-INTEGRO
SBUS-MAN
VUILNISAUTO
ABUS | VA | TO
VRACHTAUTO
SN640198a (CH)
Total Vehicles: 20
BUS12M | BUS15M
PW | LW | LWA
LW-A1 | LW-A1+
LW-A3 | LW-A3+
LW-A5 | LW-A5+
LW-A7| LW-A7+
LWA-A2 | LWA-A2+
LWA-A4 | LWA-A4+
LWA-A6 | LWA-A6+
LWA-A8 | LWA-A8+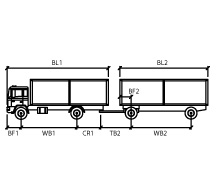 ROA (NL)
Total Vehicles: 5
B98
P98
TO98
V98
VA98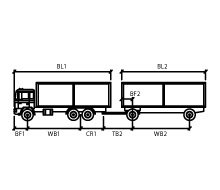 TIEHALLINTO (FI)
Total Vehicles: 6
HA
KA
KAM
KAP
LA
LAT